This v/blog is about sharing stories, listening to people tell their journey whether it be about their careers or hobbies. Inspiring others to follow their dreams and strive to do something that makes them happy, speaks to their soul or lights a fire in their belly. My guests share advice from their own perspectives over various topics, they share their hopes and dreams and what they want out of life and out of their endeavors. The great thing about being human is that everyone has their own experiences that form their own opinions, and sometimes we need to hear an opinion that differs from our own. This is not a place to condemn someone for how they do or think about things if it's different from how you'd do it, but to just listen and take it for what it is – a sharing of their experience.
Our presence is graced by miss Aya Maruyama!
On a mysterious, far away land known as "Casting Island", only the Elites and those daring enough to venture into it thrive. Here, shrouded in a mist that smells of over-priced coffee and too many client meetings that could have been emails, live the people all voice-talent seek. To get in, to learn their secrets and thoughts, you must be…able…to hang. 
However, never fear! We have one Elite who is gracious enough to step out of the mist and tell us what life is like on the other side. You must perform the ritual in order to summon her. As a behind-the-scenes human, she must be lured into the light with food. But beware, she does not stay long. Once she has had her fill of nutrients, she will escape you and flee to the shroud once again, where more secrets are still yet to be uncovered…
Spooky. o.o
I'm honestly not sure why I added that in there, but the muse approached and I love it. 10/10.
Anyway. This week we have Aya Maruyama joining us to talk about what she does as Head of Casting at Celia Siegel Management! It's a short and sweet interview, but no less interesting than any other episodes. Aya is the one who negotiates with clients, who keeps up with auditions and communicates with talent regarding auditions, bookings and CSM meetings. She also sometimes helps by giving audition feedback, talking to talent about their goals and coming up with a plan of action and overall any questions we may have.
She tells us about why she loves her career and how she got into the position. Helping talent succeed is a major player in her motivation to do her best. To help someone land a big role or even their dream role is a feeling unlike any other.
Aya also talks about her hobbies – such as travelling, water skiing, scuba diving and taking care of her animals. She has the most adorable piggies, y'all. Here's some photos: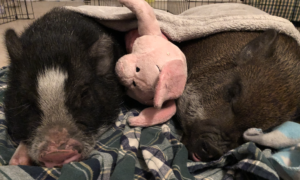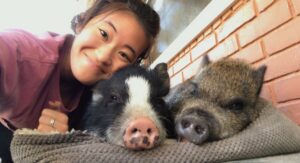 You can find and follow Aya on Instagram @agracee28. If you're an animal lover, her content is key. Chefs kiss. If you have questions for her, leave a comment and I'll be sure she sees it!
If you wanna check out my website, you can find it here: samphilyawvo.com. There, you'll find all of my demos, blog posts and some video projects that I've had the wonderful opportunity to work on. If you'd like to contact me about future collaboration on your project, email me at sam@samphilyawvo.com.
If you have questions or comments regarding the video podcast, or great guest suggestions, please feel free to leave a comment under this post!
Stay tuned for the next awesome episode, see you then!